CLIMATE CHANGE: THE MOST IMPORTANT ASPECTS OF THE TECHNOLOGICAL REVOLUTION ARE STILL INVISIBLE
© by Ricardo Vanella (IVLP, Argentina).  Strategic Positioning and International Marketing specialist

Linkages between water quality and water quantity are important new developments in research and management of water resources and all the problems involved.
 Water scarcity by pollution of surface and ground water is a fundamental process affecting continents, regions, towns, urban and rural areas.
Costs of water treatment are increasing  worldwide, due to the degradation of water supply, surface and ground sources.
 To improve water management it is necessary:
 

An integrated approach (multiple uses).

 

A predictive approach.

 

A strong research basis on water resources problems, Hydrology, Hydrogeology,

Limnology. Linkages between Climatology/Hydrology /Hydrogeology/Limnology, Eutrophication/Pollution. Long term research on related topics is fundamental to support management programs and capacity building.

 

A capacity building programme with emphasis on water quality/quantity and case studies as a basis for training is essential as a new step forward.
(Source: Galizia Tundisi, 2010.

 

Conference Climate Change. International Institute of Ecology. São Carlos – São Paulo, Brazil).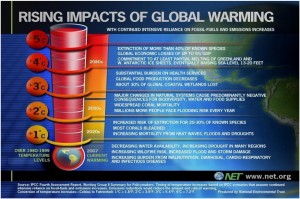 Temperature changes scenarios: Annual average temperature change (shaded colors) and its margin of variation isolines (top chart) and the B2 scenario (bottom chart). Both scenarios compare the 2071-2100 period to the 1961-1990 period.
(Source: Third Report of Evaluation of IPCC «La Base Científica»
GEO Argentina 2004).
The coming change to impose
Ernesto Viglizzo, from the INTA Anguil, affirms that a non-controlled expansion policy of the agriculture border at the expense of forests, lands and pasturelands in del Plata high basin (Cerrado Brasileño, paranaense forest in Paraguay), can strongly alter the regional pluvial metric pattern and affect the agriculture and cattle lands near rivers that flow in Rio de la Plata.
Mercosur puts forward a cross-border policy that, without affecting the agricultural economy upstream, minimizes or compensates for its negative impacts downstream.

Roberto Casas, from  INTA Castelar Soil Institute, says that "the eolian erosion processes have increased in Entre Ríos, in the south of Santa Fe and the southeast of Córdoba".
"The agriculture sector is one of those sectors which has the greatest capacity to adapt itself and the fastest to respond to changes, in view of the fact it has numerous technological tools".
(Source: Dr. Claudia Rodriguez, 2010.

 

Conference Climate Change. International Institute of Ecology. São Carlos – São Paulo, Brazil).
WHO THEY WERE, WHO THEY ARE?